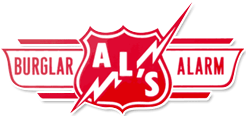 Call for an Estimate:
800-700-4780
Residential Buglar
Every neighborhood likes to believe that it is a safe place to live. The truth is a burglary can happen in any neighborhood and to anyone. Having an Al's Burglar Alarm system is the best way to get a burglar to go somewhere else. Loud exterior sirens that alert neighbors and immediate armed guard response have proven to be a very effective deterrent in our local neighborhoods.
A professional security system installed by Al's is one that tells an experienced burglar; 1) That your home has an above average security service that protects the entire home, 2) There will be a very loud alarm that makes lots of noise that alerts the neighborhood, and, 3) A professional armed guard service is responding immediately. If you are on a tight budget and can only afford a minimal system Al's will design the best protection for the money you have available to spend. The system and service is fully expandable and upgradable to the newest technology, and can integrate with smart phone apps, text messaging, along with video surveillance now or in the future.
Al's will design a security system for your home to protect you while home sleeping and when no one is at home. Al's proven professional methods will minimize the chance for false alarms too. Our installers are fully trained and we only install field tested and proven professional equipment.
Our residential alarm systems have the ability to monitor more than burglar alarms. These alarm systems can monitor fire and carbon monoxide detectors, medical emergencies, and much more.
Here at Al's, we believe it is important to explain to our customers the reality of what an alarm system can and cannot do. We do not believe giving our customers a false sense of security. The truth is that according to the Modesto Police, (Mayor's public forum held in December 2012) crime is steadily increasing upward in the Greater Modesto Metro Area, unlike the rest of the USA which has seen a small drop is burglaries. A home in the Greater Modesto Metro area needs a professionally installed burglar alarm system coupled with an effective emergency guard response to check the security of your home.
Call us today and learn how a professional security system installed by Al's is the best protection for your family.
Al's does not offer "free" alarm systems